Solar battery LiFePo4 lithium ion Wulills 12V 24V 48V 100Ah 200Ah 280Ah 300Ah
Rated 5.00 out of 5 based on

16

customer ratings
(comments)
€ 376,10 – € 1443,55
Solar battery LiFePo4 lithium ion Wulills 12V 24V 48V 100Ah 200Ah 280Ah 300Ah
Lithium iron phosphate (LiFePO4) batteries are a rechargeable type of ion (Li-Ion). Their benefits over more traditional cobalt-based lithium-ion batteries are higher power output, faster charging, reduced weight and longer life.
LiFePO4 is the safest type of lithium battery available on the market today. The nominal voltage of a LiFePO4 cell is 3.2 V compared to sealed lead acid, which consists of 2 V cells. Therefore, a 12.8 V battery has 4 cells connected in series and a 25.6 V battery has 8 cells connected in series.
The LiFePO4 battery has an advantage over the lithium-ion battery, both in terms of cycle life (it lasts 4-5 times longer) and safety. This is a key advantage because lithium-ion batteries can overheat and even catch fire, while LiFePO4 does not.
Only logged in customers who have purchased this product may leave a review.
Solar battery LiFePo4 lithium ion Wulills 12V 24V 48V 100Ah 200Ah 280Ah 300Ah
Brand Name: 

WULILLS

Origin: 

Mainland China

Model Number: 

LiFePO4 Battery Pack

Certification: 

CE,RoHS

Size: 

53cm*23.7cm*21.7cm

Application: 

Scooter, Street Bike,Solar

Weight: 

13-45KG

Nominal Capacity: 

100Ah-300Ah

Type: 

Li-Ion

Voltage: 

12.8V-51.2V

Cycle Time: 

>4000 times

Warranty: 

5 Years

Support to OEM: 

Yes

Features 1: 

12V 100Ah 200Ah 300Ah Lifepo4 battery

Features 2: 

12V 24V 48V LIFePO4 Battery With Built-in BMMS

Features 3: 

Lifepo4 Batteries for RV Solar

Features 4: 

12V 300Ah Lithium Iron Phosphate Battery

Features 5: 

48V 70Ah Lifepo4 battery pack

Features 6: 

24V 100Ah LiFePO4 Battery Pack

Features 7: 

48V 100Ah LiFePO4 Battery Pack Support 32 Max parallel

Support to Dropshipping: 

Yes
12V 100Ah Lifepo4 Battery
Specifications
Nominal Voltage: 12.8V
Nominal Capacity: 100Ah 0.2C
Built-in BMS:4S100A
Energy: 1280Wh
Cycle Life: >4000 cycles at 0.2C; End of life 70% capacity.
Charge Voltage: 14.6±0.2V
Charger Current: 20A
Max. Charge Current: 50A
Max. Continuous Current: 100A
Max. Pulse Current: 200A(<3S)
Discharge Cut-off Voltage: 10.0V
Charge Temperature: 0 to 45℃ (32 to 113℉)
Discharge Temperature: -20 to 60℃ (-4 to 140℉)
Storage Temperature: 0 to 45℃ (32 to 113℉)
Water Dust Resistance: IP5
Case Material: ABS
Dimension (L/W/H): 330*172*215 mm
Weight: Approx. 14kg
Terminal Type: M8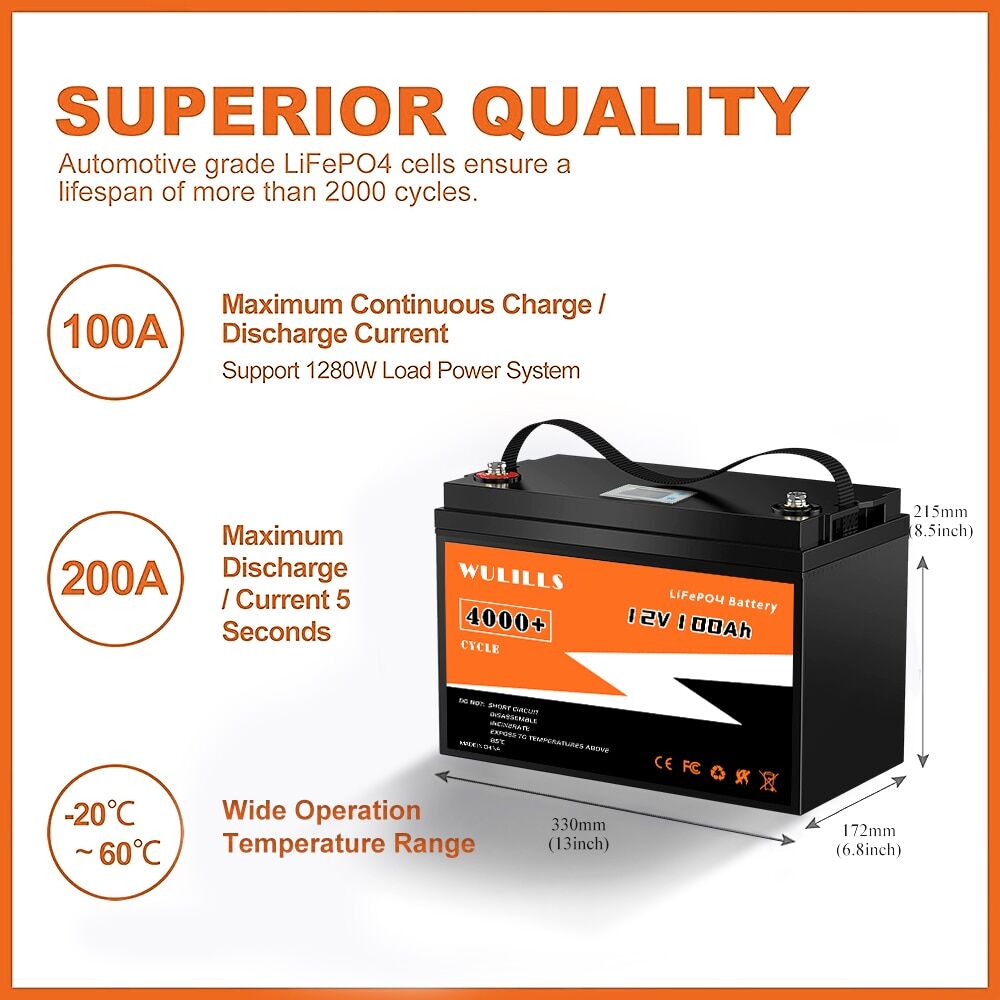 12V 200Ah Lifepo4 Battery
Specifications
Nominal Voltage: 12.8V
Nominal Capacity: 200Ah 0.2C
Built-in BMS:4S150A
Energy: 2560Wh
Cycle Life: >4000 cycles at 0.2C; End of life 70% capacity.
Charge Voltage: 14±0.2V
Suggest Charger Current: 40A
Max. Charge Current: 75A
Max. Continuous Current: 150A
Discharge Cut-off Voltage: 10.0V
Charge Temperature: 0 to 45℃ (32 to 113℉)
Discharge Temperature: -20 to 60℃ (-4 to 140℉)
Storage Temperature: 0 to 45℃ (32 to 113℉) at 60±25% relative humidity
Water Dust Resistance: IP5
Case Material: ABS
Dimension (L/W/H): 530*237*217mm /
Weight: Approx. 20kg
Terminal Type: M8
12V 280Ah Lifepo4 Battery
Specifications
Nominal Voltage: 12.8V
Nominal Capacity: 280Ah 0.2C
Built-in BMS:4S150A
Energy: 3584Wh
Cycle Life: >4000 cycles at 0.2C; End of life 70% capacity.
Charge Voltage: 14±0.2V
Suggest Charge Current: 40A
Max. Charge Current: 70A
Max. Continuous Current: 150A
Discharge Cut-off Voltage: 10.0V
Charge Temperature: 0 to 45℃ (32 to 113℉)
Discharge Temperature: -20 to 60℃ (-4 to 140℉)
Storage Temperature: 0 to 45℃ (32 to 113℉)
Water Dust Resistance: IP5
Case Material: ABS
Dimension (L/W/H): 520*269*220 mm /
Weight: Approx. 29kg
Terminal Type: M8
12V 300Ah Lifepo4 Battery
Specifications
Nominal Voltage: 12.8V
Nominal Capacity: 300Ah 0.2C
Built-in BMS:4S150A
Energy: 3840Wh
Cycle Life: >4000 cycles at 0.2C;
Charge Voltage: 14±0.2V
Suggset Charge Current: 60A
Max. Charge Current: 70A
Max. Continuous Current: 150A
Discharge Cut-off Voltage: 10.0V
Charge Temperature: 0 to 45℃ (32 to 113℉)
Discharge Temperature: -20 to 60℃ (-4 to 140℉)
Storage Temperature: 0 to 45℃ (32 to 113℉)
Water Dust Resistance: IP5
Case Material: ABS
Dimension (L/W/H): 530*237*217 mm /
Weight: Approx. 33kg
Terminal Type: M8
24V 100Ah Lifepo4 Battery
Specifications
Nominal Voltage: 25.6V
Nominal Capacity: 100Ah 0.2C
Built-in BMS:8S100A
Energy: 2560Wh
Cycle Life: >4000 cycles at 0.2C;
Charge Voltage: 29±0.2V
Suggest Charge Current: 20A
Max. Charge Current: 50A
Max. Continuous Current: 100A
Max. Pulse Current: 200A(<3S)
Discharge Cut-off Voltage: 20.0V
Charge Temperature: 0 to 45℃ (32 to 113℉)
Discharge Temperature: -20 to 60℃ (-4 to 140℉)
Storage Temperature: 0 to 45℃ (32 to 113℉)
Water Dust Resistance: IP5
Case Material: ABS
Dimension (L/W/H): 530*277*217 mm /
Weight: Approx. 22kg
Terminal Type: M8
48V 70Ah LiFePO4 Battery
Specifications
Nominal Voltage: 51.2V
Nominal Capacity: 70Ah 0.2C
Built-in BMS:16S100A
Energy: 3584Wh
Cycle Life: >4000 cycles at 0.2C;
Charge Voltage: 51.2±0.2V
Suggest Charge Current: 10A
Max. Charge Current: 30A
Max. Continuous Current: 100A
Max. Pulse Current: 200A(<3S)
Discharge Cut-off Voltage: 40.0V
Charge Temperature: 0 to 45℃ (32 to 113℉)
Discharge Temperature: -20 to 60℃ (-4 to 140℉)
Storage Temperature: 0 to 45℃ (32 to 113℉)
Water Dust Resistance: IP5
Case Material: ABS
Dimension (L/W/H): 520*269*220 mm /
Weight: Approx. 24kg
Terminal Type: M8
24V 200Ah LiFePO4 Battery Pack
Specifications
Size:450*295*140MM
Rated Capacity (0.2C): 200Ah / 5120Wh
Cycle life: 4000+ cycles at 80% discharge depth
Charge voltage: 28.4V – 29.2V
Depth of Discharge (DoD): 100%
Standard charge current: 50A
Max continuous charge current: 100A
Max continuous discharge current: 120A
Peak discharge current: 600A (Duration: less than 5 seconds)
Operating temperatures: Charge 0°C~50°C(32°F~122°F),
Discharge -20°C~60°C(-4°F~140°F), Storage -20°C~50°C(-4°F~122°F)
Water Dust Resistance: IP5
Case Material: Metal
Dimension (L/W/H): 450*295*140
Weight: Approx. 36kg
Terminal Type: M6
All Built-in BMS Protection
Overcharge protection
Overdischarge protection
Overcurrent protection
Short circuit protection
Cell voltage self balance
LiFePO4 INTERNAL COMPONENTS
All our lifepo4 pack was made of new grade A or A- cells,we promise good quality
Connection Of Solar Panel(MPPT) and Battery
Two Charging Methods
1.It can charging with Lifepo4 charger
2. It can be charging with Solar panel
We Provide 5-Year Quality Warranty
Solar battery LiFePo4
Solar battery LiFePo4
Solar battery LiFePo4
Solar battery LiFePo4
Solar battery LiFePo4
Solar battery LiFePo4
Solar battery LiFePo4
Solar battery LiFePo4