Gas leakage wifi alarm eMastiff Tuya for natural gas and LPG
€ 36,99
Gas leakage wifi alarm eMastiff Tuya for natural gas and LPG
Gas leakage wifi alarm measures air leakage and air temperature of different combustible gases (natural gas, LPG, CH4). If it detects the presence of a gas in the air below the alarm limit, it will give a loud warning in human language and indicate the concentration in the air.
If the concentration in the air exceeds the alarm limit (6 LEL +-3% CH4) or the alarm temperature (57 C), the siren (70dB) will start to work and will automatically send the alarm also to the designated phones (via Smart Life app for both Android and IOS).
In order to connect the gas leakage wifi alarm to a phone, wifi (2.4GHz) access is required in the sensor's operating range.
Power is via a micro-usb (5V) cable and the LCD display showing gas concentration in air, time and temperature is active at all times (power consumption less than 200mA). Supplied with 220V mains charging plug and micro-usb lead, no space for internal battery. However, you can also use any other external power supply (12V, 5V) capable of charging via micro-USB.
Install the gas leakage wifi alarm between 1.5 and 4.0 metres from the ceiling, 30 cm below the ceiling (for lighter gases such as natural gas) and 30 cm above the floor (for heavier gases such as LPG).
Buyer's comment 21.06.2021: "Product match advertised. Easy configuration. Display is small but LCD screen colorful gives an air of sophistication. Made tests with natural gas with 2 burners stove open and got shooting in about 2 minutes in ventilated place. Made test with butane, with shooting immediately. App SmartLife showed alarm in about 30 to 50 seconds after the shooting. Only the thermometer shows a temperature above real and not calibrate apparently. No battery need plug in. Comes with charger and cable to plug in electric valve closes the gas to trigger alarm case you install."
11041 in stock
Gas leakage wifi alarm eMastiff Tuya for natural gas and LPG
Brand Name: 

eMastiff

Smart home platform: 

Tuya

Certification: 

CE

Origin: 

CN(Origin)

Model Number: 

Tuya Gas

Average Consumption: 

≤1.5W

Alarm Sound: 

70dB/m

WIFI Standard: 

802.11b/g/n

Working Temperature: 

-10℃~ 50℃

Working Humidity: 

≤95%RH

Alarm Model: 

Spot Alarm and APP notice

APP: 

Tuya/Smart life

Features1: 

used to detectnatural gas

Features2: 

safety precaution

Features3: 

Fire equipment

Features4: 

Protecting family safety

Features5: 

combustible gas alarm

Power connector: 

EU/US(default EU)
Tuya WiFi GAS LPG Leak Sensor alarm Fire Security detector APP Control Safety smart home Leakage sensor
Tuya Gas3 Product Description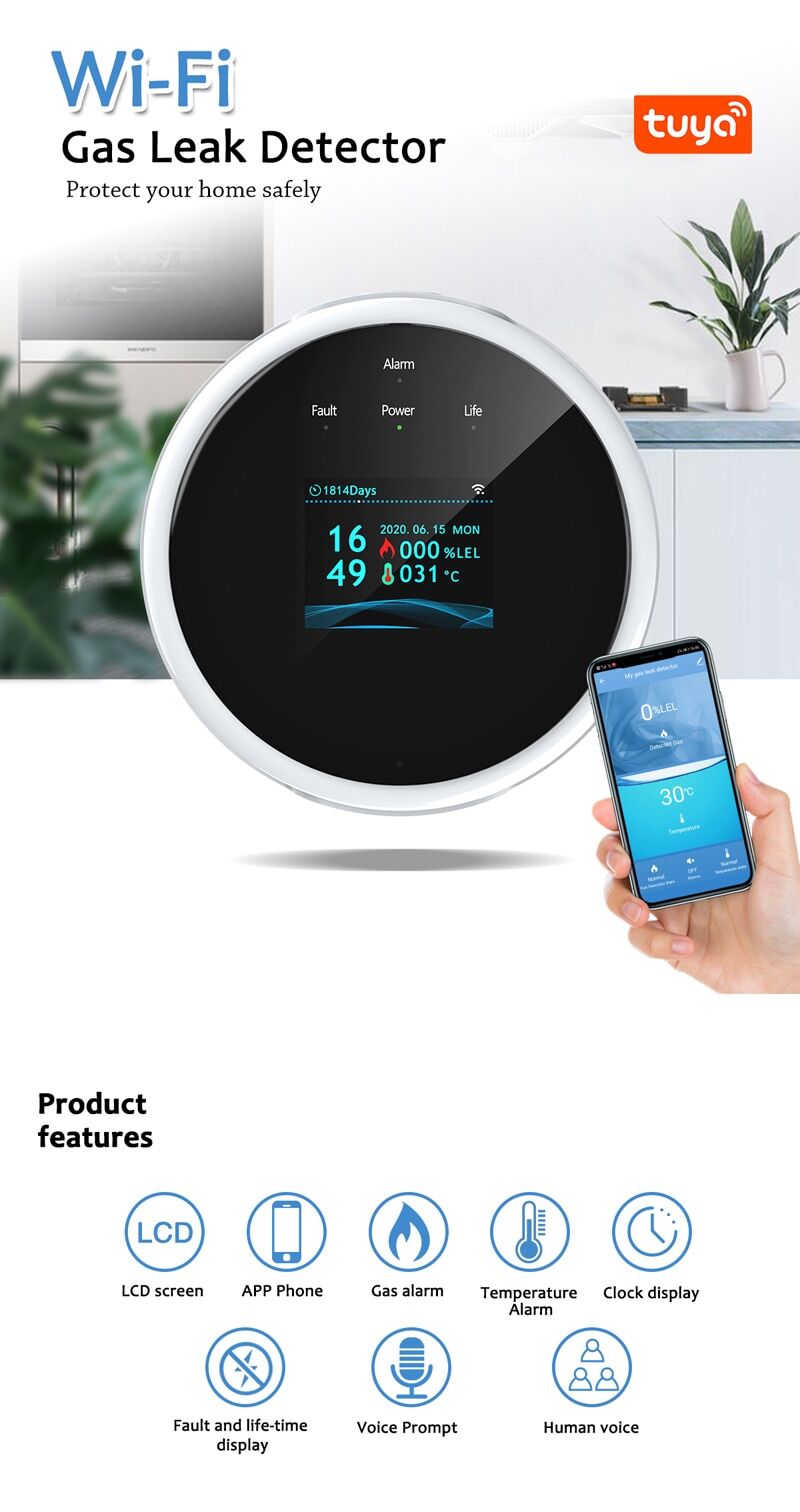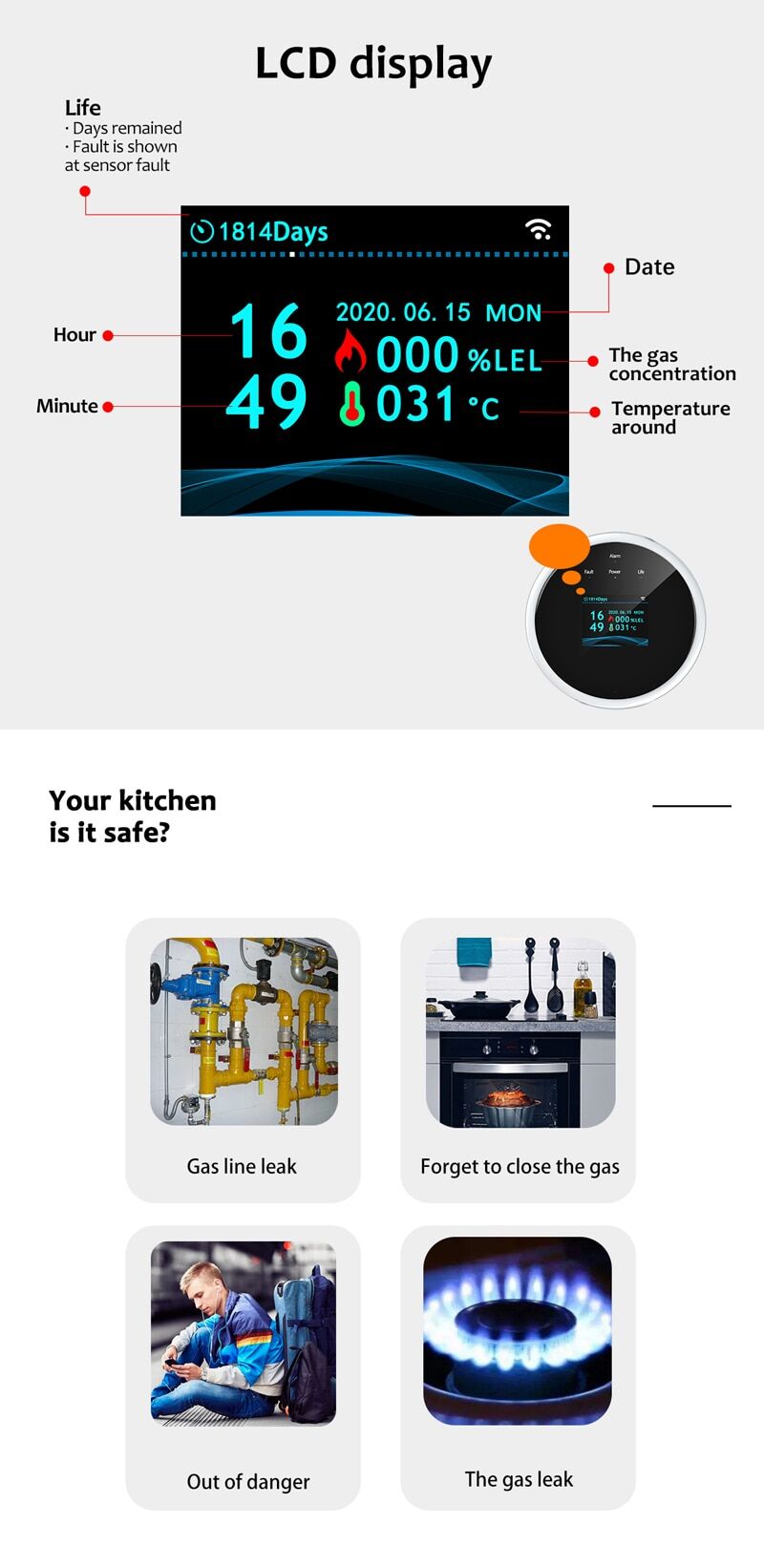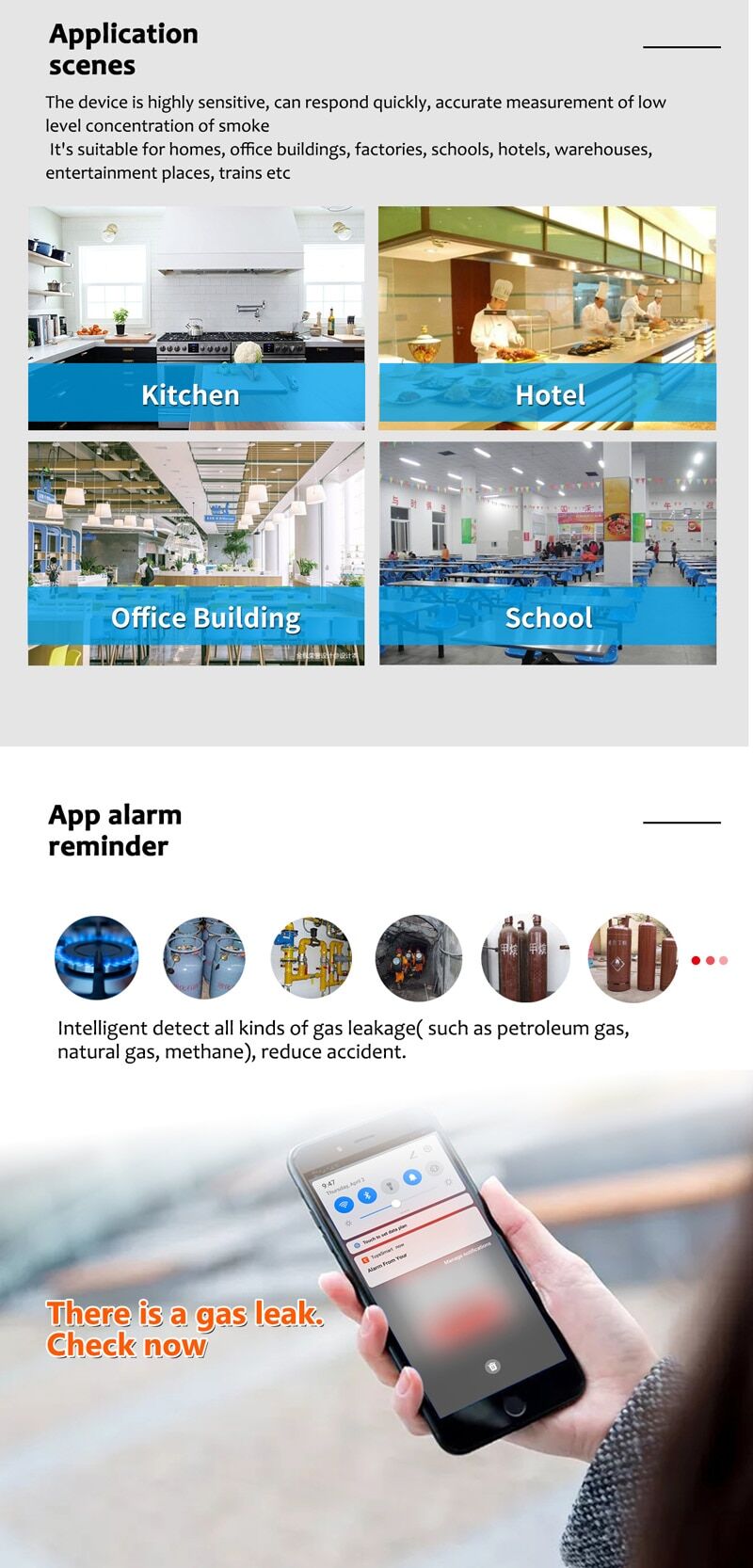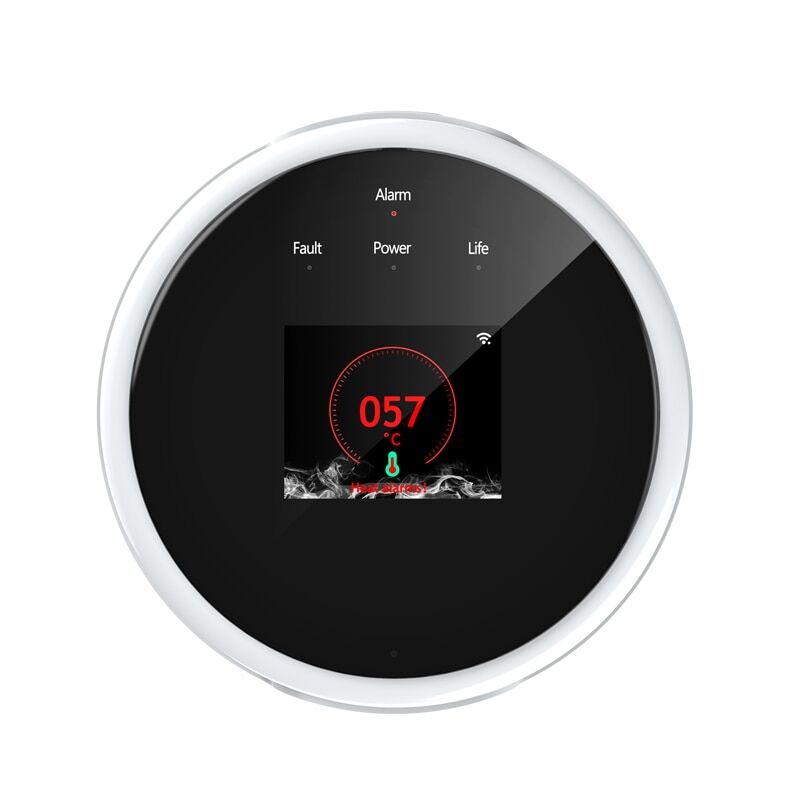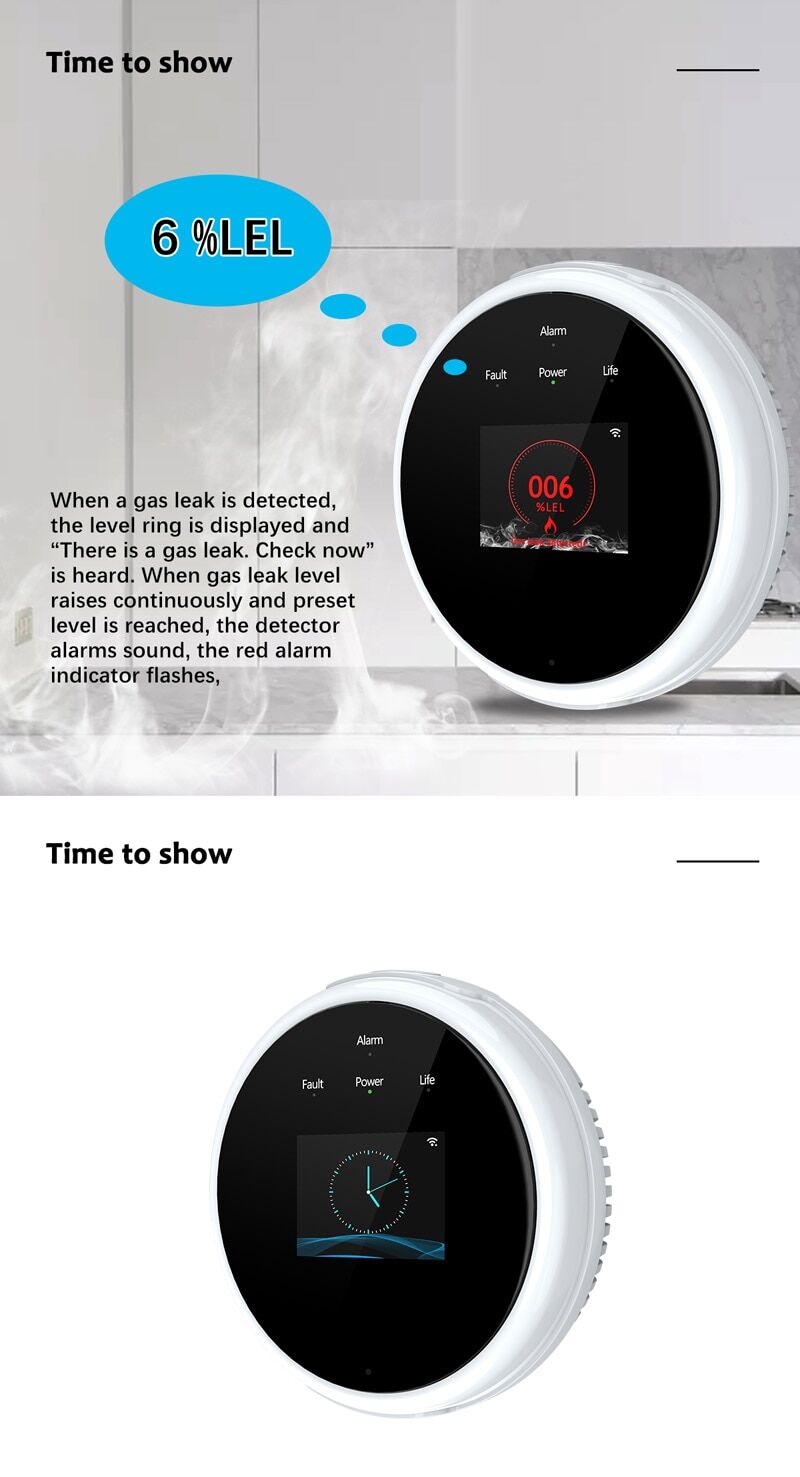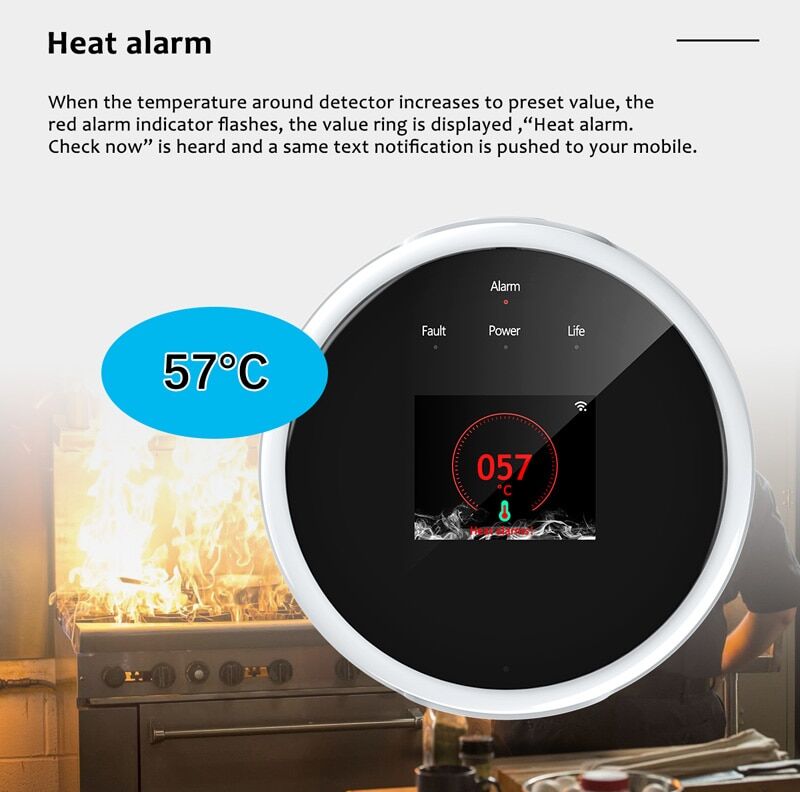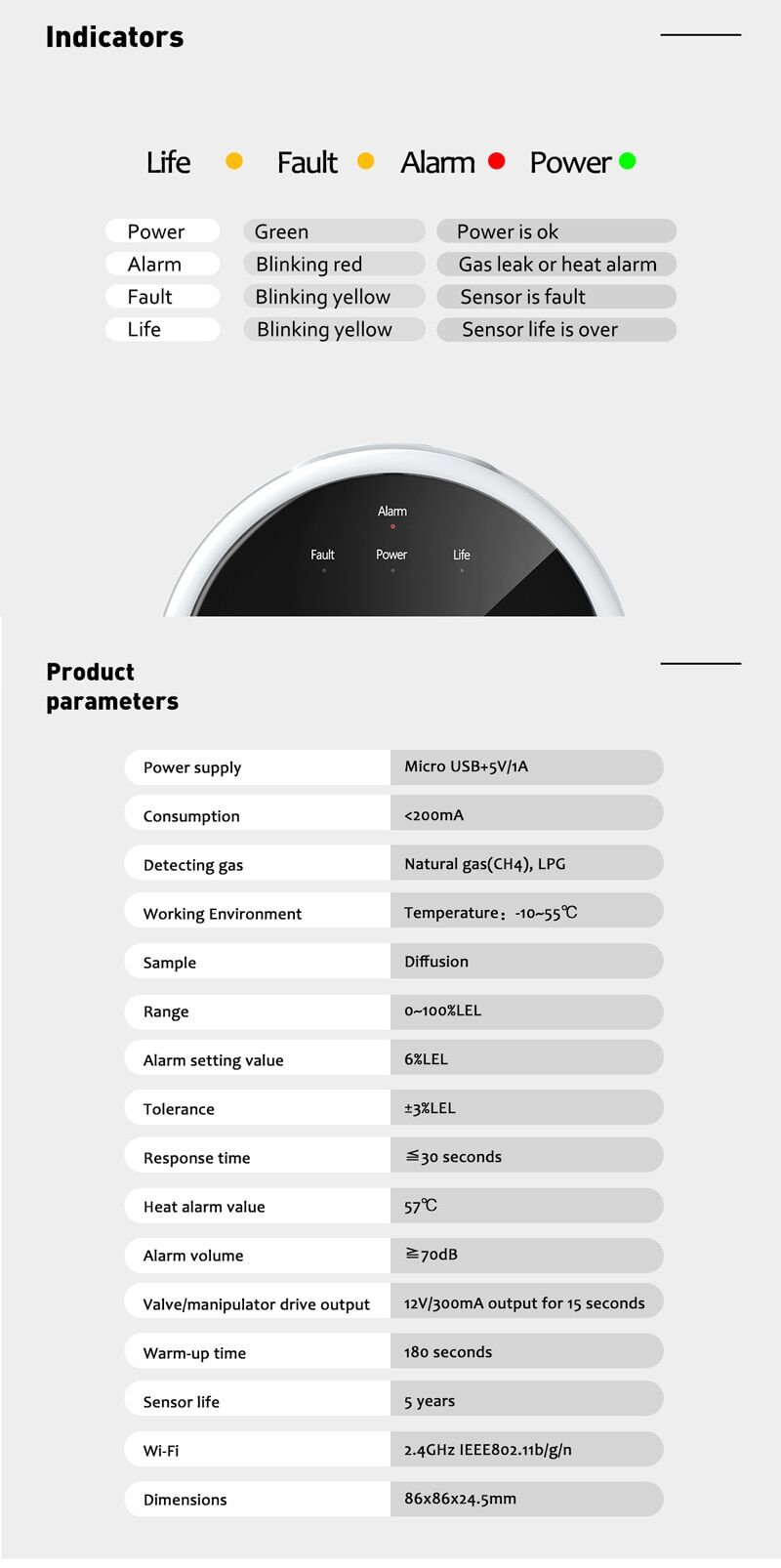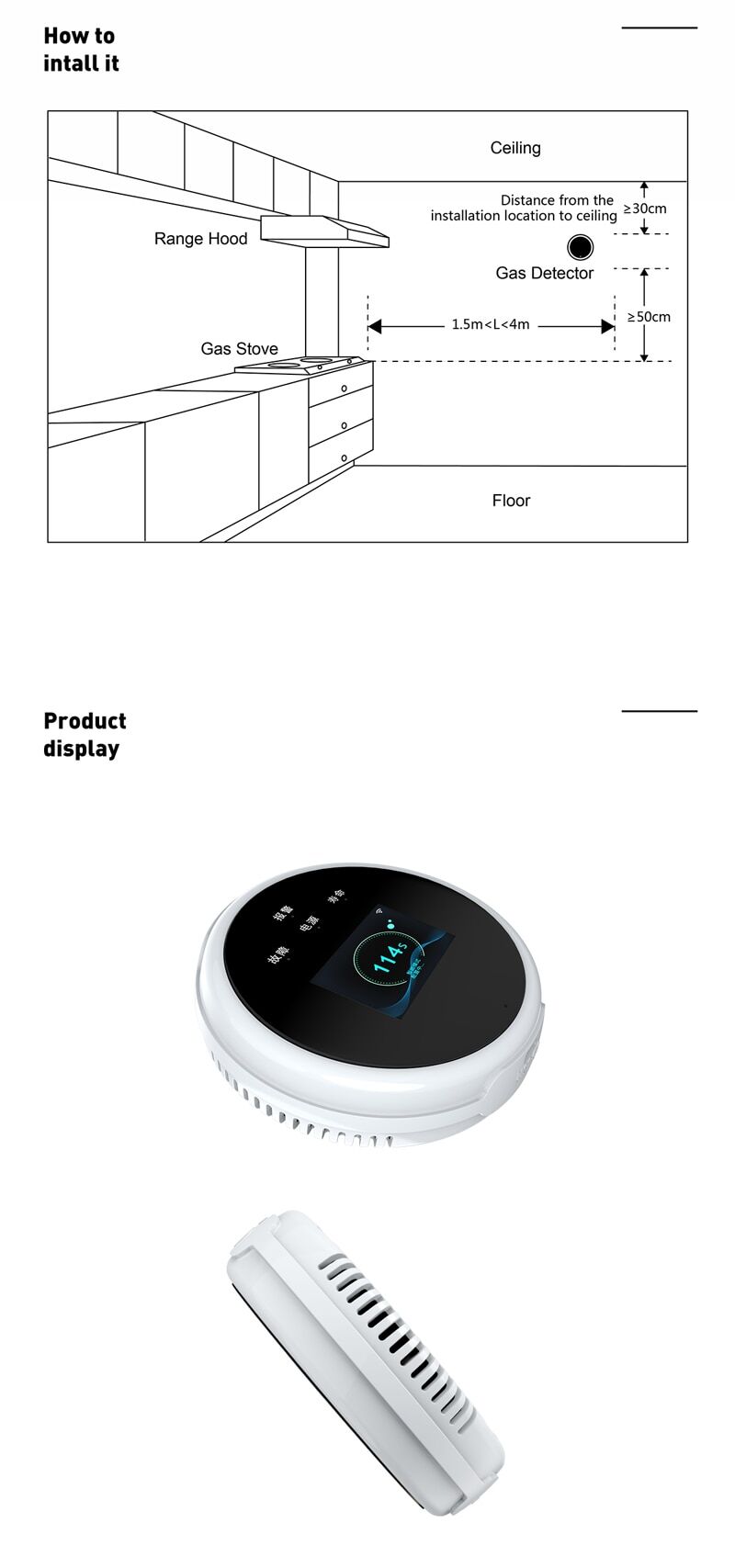 This product has a self-test button, and there is also a self-test button on the APP, which can be used to detect whether the alarm and
the buzzer can work normally. When the self-test is pressed, the red LED of the alarm flashes. The buzzer beeps.
Gas leakage wifi alarm alert handling
When the concentration value of natural gas or liquefied petroleum gas with heavy ambient air reaches or exceeds the alarm concentration value,the alarm will automatically enter the continuous alarm state. At this moment, we should do the followings:
1. Close the pipeline valve immediately.
2. Extinguish all sources of ignition and avoid using everything that generates sparks.
3. Avoid switching various electrical appliances.
4. Immediately open the windows to convect the indoor air.
| | |
| --- | --- |
| Weight | 0,2 kg |
| Dimensions | 8,5 × 8,5 × 2,5 cm |
You may also like…
Gas leakage wifi alarm eMastiff Tuya for natural gas and LPG

€

36,99

Gas leakage wifi alarm eMastiff Tuya for natural gas and LPG

Gas leakage wifi alarm measures air leakage and air temperature of different combustible gases (natural gas, LPG, CH4). If it detects the presence of a gas in the air below the alarm limit, it will give a loud warning in human language and indicate the concentration in the air.

If the concentration in the air exceeds the alarm limit (6 LEL +-3% CH4) or the alarm temperature (57 C), the siren (70dB) will start to work and will automatically send the alarm also to the designated phones (via Smart Life app for both Android and IOS).

In order to connect the gas leakage wifi alarm to a phone, wifi (2.4GHz) access is required in the sensor's operating range.

Power is via a micro-usb (5V) cable and the LCD display showing gas concentration in air, time and temperature is active at all times (power consumption less than 200mA). Supplied with 220V mains charging plug and micro-usb lead, no space for internal battery. However, you can also use any other external power supply (12V, 5V) capable of charging via micro-USB.

Install the gas leakage wifi alarm between 1.5 and 4.0 metres from the ceiling, 30 cm below the ceiling (for lighter gases such as natural gas) and 30 cm above the floor (for heavier gases such as LPG).

Buyer's comment 21.06.2021: "Product match advertised. Easy configuration. Display is small but LCD screen colorful gives an air of sophistication. Made tests with natural gas with 2 burners stove open and got shooting in about 2 minutes in ventilated place. Made test with butane, with shooting immediately. App SmartLife showed alarm in about 30 to 50 seconds after the shooting. Only the thermometer shows a temperature above real and not calibrate apparently. No battery need plug in. Comes with charger and cable to plug in electric valve closes the gas to trigger alarm case you install."

Add to cart

Best Tuya wifi temperature humidity sensor for plants aquarium winery ACJ

€

27,84 –

€

30,02

Tuya wifi temperature humidity sensor for plants aquarium winery ACJ

1. Tuya WiFi digital temperature and humidity sensor, no need for a hub.

2. Built-in high-precision sensor, quickly and accurately find the changes in the surrounding environment.

3.USB charging, no need to buy batteries, energy saving and environmental protection.

4. The sensor has a probe (optional), which can accurately test the water /fish tank. It is widely used.

5. You can set the temp and hum to go online and offline, and alarm immediately when they are exceeded.

Choose options

TLL* Smart wifi temperature humidity meter Tuya ACJ for home or plants

€

24,00

TLL* Smart wifi temperature humidity meter Tuya ACJ for home or plants

This article is available for shipping from Tallinn to Estonia, Latvia, Lithuania. If you want to ship the item to another country, please order ANOTHER ARTICLE.

ACJ Smart Home Plant Growth Temperature Humidity Sensor High Accuracy LCD Display WiFi Thermometer Hygrometer Tuya app.

The sensor will monitor the temperature and humidity in real time. The sensor will report when the change very little. Changes in values can be viewed in the app or on the screen. Changes are recorded in the app, and graphical data analysis is available.

The sensor can be used as a temperature and humidity data source for Smart Life, Amazon Alexa, and Google Home. You can perform many automated processes based on data sources.

The sensor is designed with Celsius and Fahrenheit temperature display conversion. You can select the units you want to display according to your needs.

Input voltage: DC4.5V LR03 * 3 (The factory does not include the battery) quiescent current: ≤ 30uA

Low power voltage: ≤ 2.7V
WiFi: 802.11b/g/n 2,4 GHz
Working temperature: -9℃ +99℃
Operating humidity: 0% ~ 99% RH

Add to cart