220V 4000W EU socket divider switch usb travel adapter
€ 26,94
220V 4000W EU socket divider switch usb travel adapter
Compact, beautiful and powerful socket splitter 3*220V 4000W, 3*usb a 2.4A, 1*usb-c 3A. In addition, the splitter has a manual switch and built-in short-circuit, temperature, over-voltage and overload protections.
Due to the compact design (7.64*7.64*6.24cm, 217 gr), it does not prevent the use of neighboring sockets. Suitable for home, office, hotel, travel.
6660 in stock
220V 4000W EU socket divider switch usb travel adapter
Brand Name: 

LENCENT

Grounding: 

Standard Grounding

Outlets Number: 

3

Type: 

International Plug Adaptor

Extension Cable Length: 

None

Surge Protector: 

No

WIFI: 

No

Origin: 

CN(Origin)

Overload Protection: 

Yes

Support Quick Charge: 

No
Rated Voltage: 

110-250V

Application: 

Commercial,Hospital,Residential / General-Purpose

Sub-control Switch: 

No

Model Number: 

PA037EU

Synchronous Rectification Technology: 

Yes

USB Total Power: 

12W

Plug Type: 

EU

Certification: 

CE,FCC,RoHS

Single USB Max Output: 

5V 2.4A

Master Switch: 

Yes

USB Ports Number: 

4

Features 1:: 

UK to AU Travel Adapter

Material:: 

Fireproof Material

Protection:: 

Short Circuit, Overheat, Overcharging

Rated Power: 

4000W
Product Specifications
Brand : LENCENT
Model : PA037EU
Power output : 100-250VAC, 16A Max,4000W Max.
USB Input: 100-250V,50/60Hz, 0.4A
Single USB: 5V/2.4A
Type C Port: 5V/3A
Total Output: 5V/3.4A Max.
EU Multi Socket with Certification: FCC / CE/RoHS
Packing Size: 11*8*8cm
Gross weight : 220g
Product Description
◆【7 in 1 USB Plug Cube】
Includes 3 AC outlets + 3 USB ports + 1 Type C ports. The plug has 3 outlets, 3 USB ports and 1 Type C port are the perfect combination, which can be used for multiple devices at the same time. Same time. For example, for computers, mobile phones, tablets, devices with USB ports, etc. The plug is very quiet and has no noise.
◆【Convenient Switch】
This socket has a convenient switch that can turn all connected devices on and off at the same time. You don't have to plug or unplug the power cord each time with difficulty, it can also save more electricity.
◆【Non-Locking Design】
Unique plug socket design allows you to connect 3 large sockets, 3 USB ports and 1 Type-C port at the same time without hindering the use of neighboring sockets.
◆【Safe and Durable】
The maximum power up to 4000 watts. Use 750°C PC flame retardant material shell, never cause the fire. It also has Child Protection, it is more safe and secure when using.
◆【Compact and Portable】
This cube plug thief is small and lightweight for easy portability and placement. Cube size: 76 x 62 x 76 mm. It can fit in your backpack or briefcase and is ideal for home, office or travel.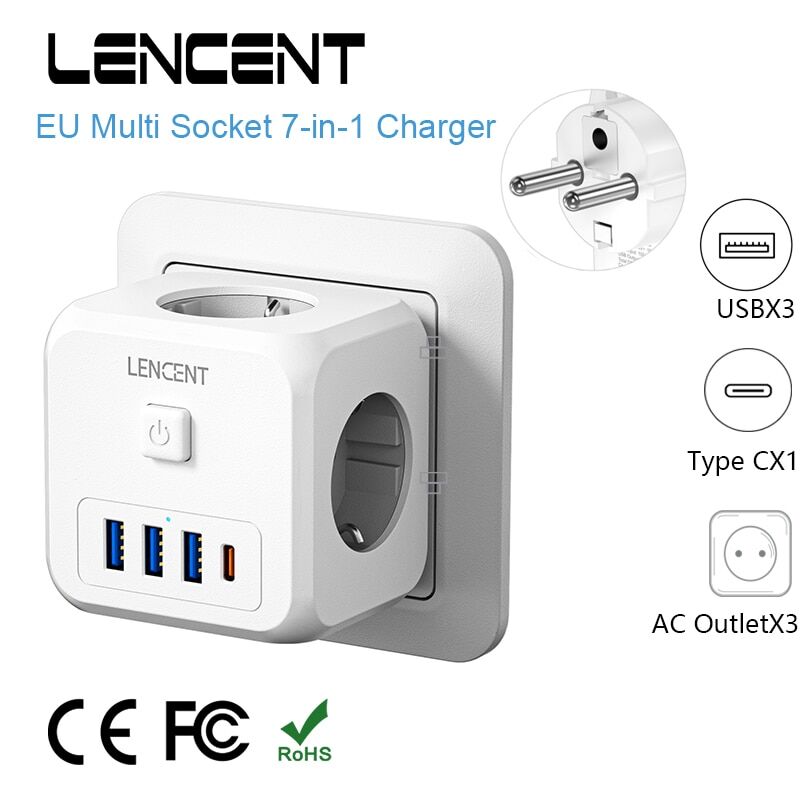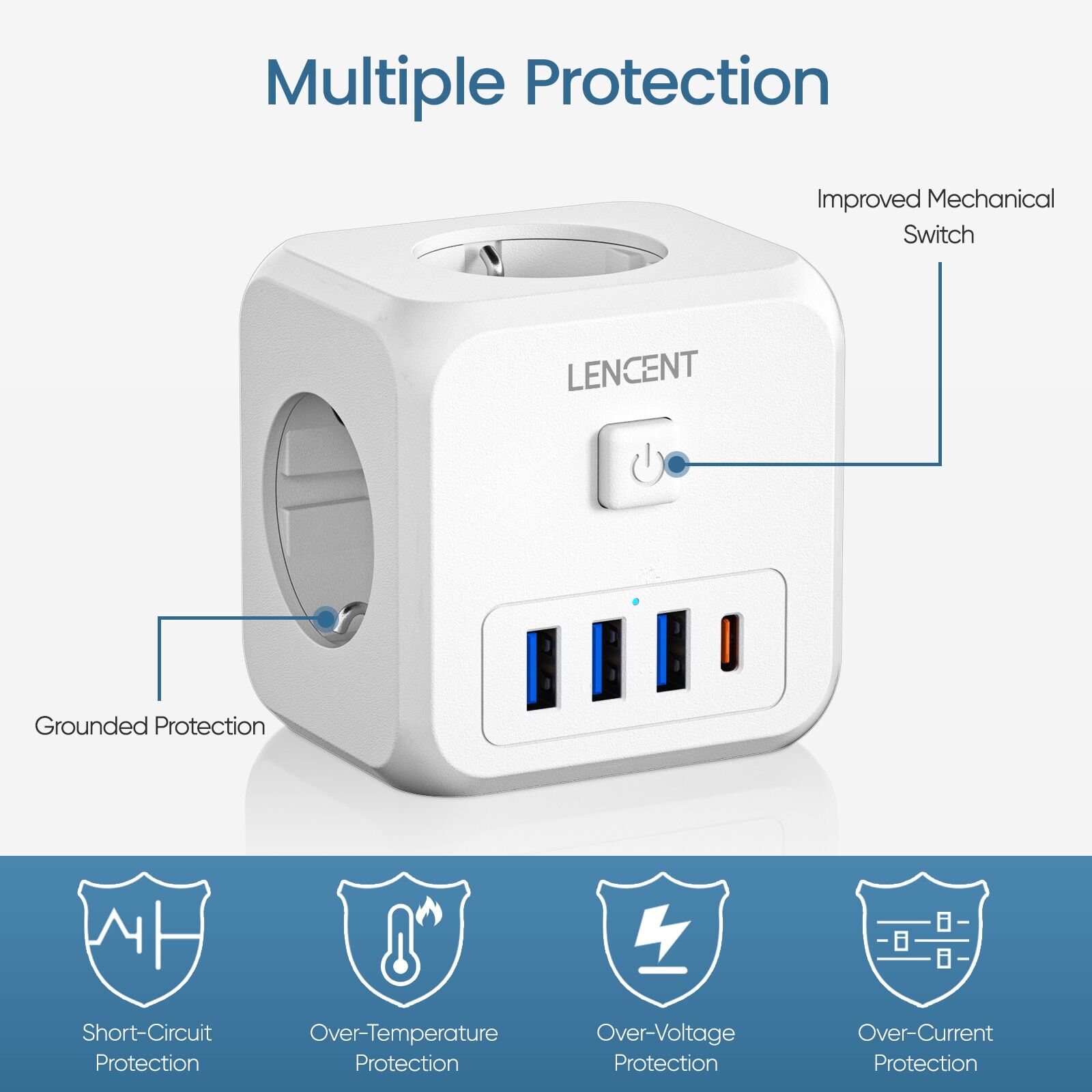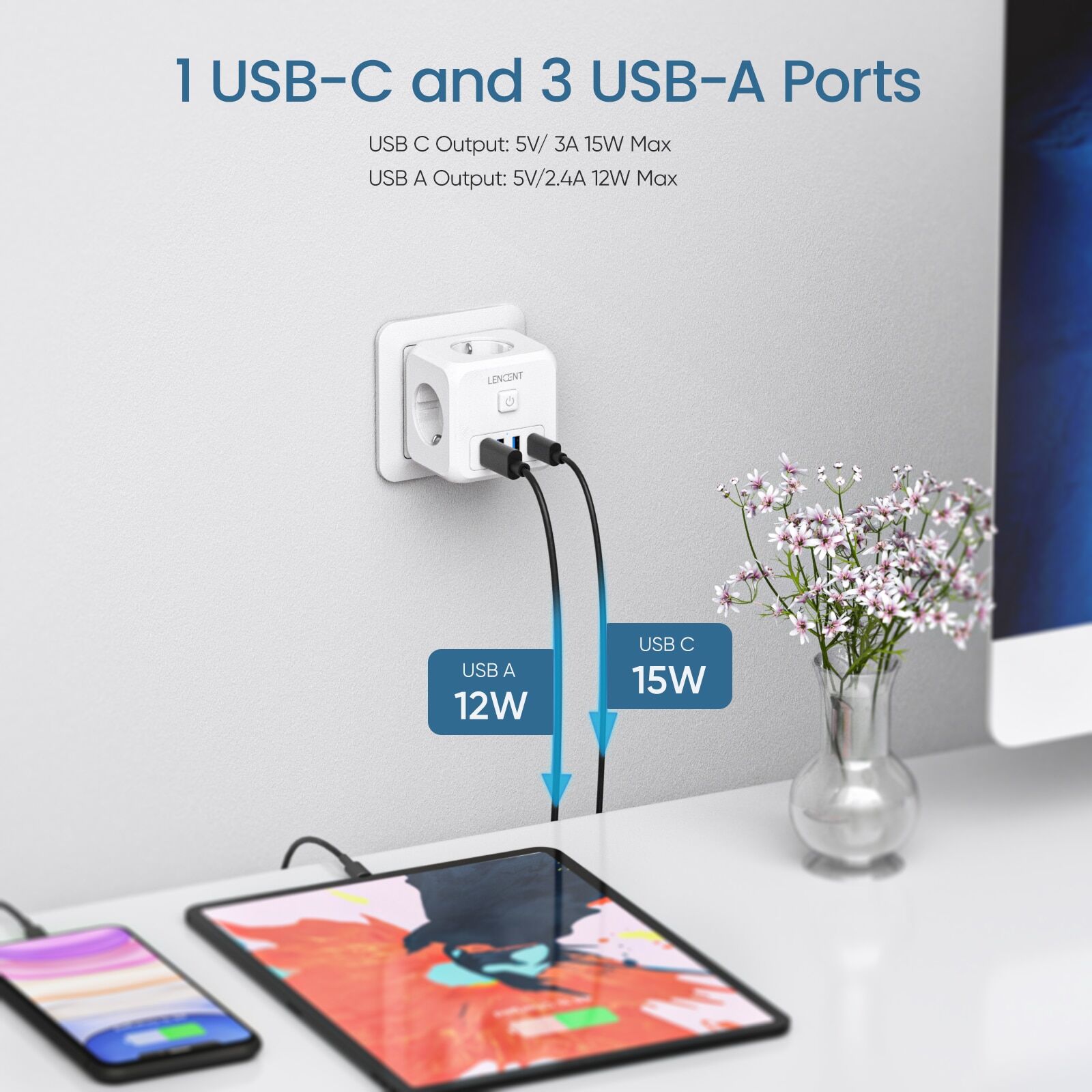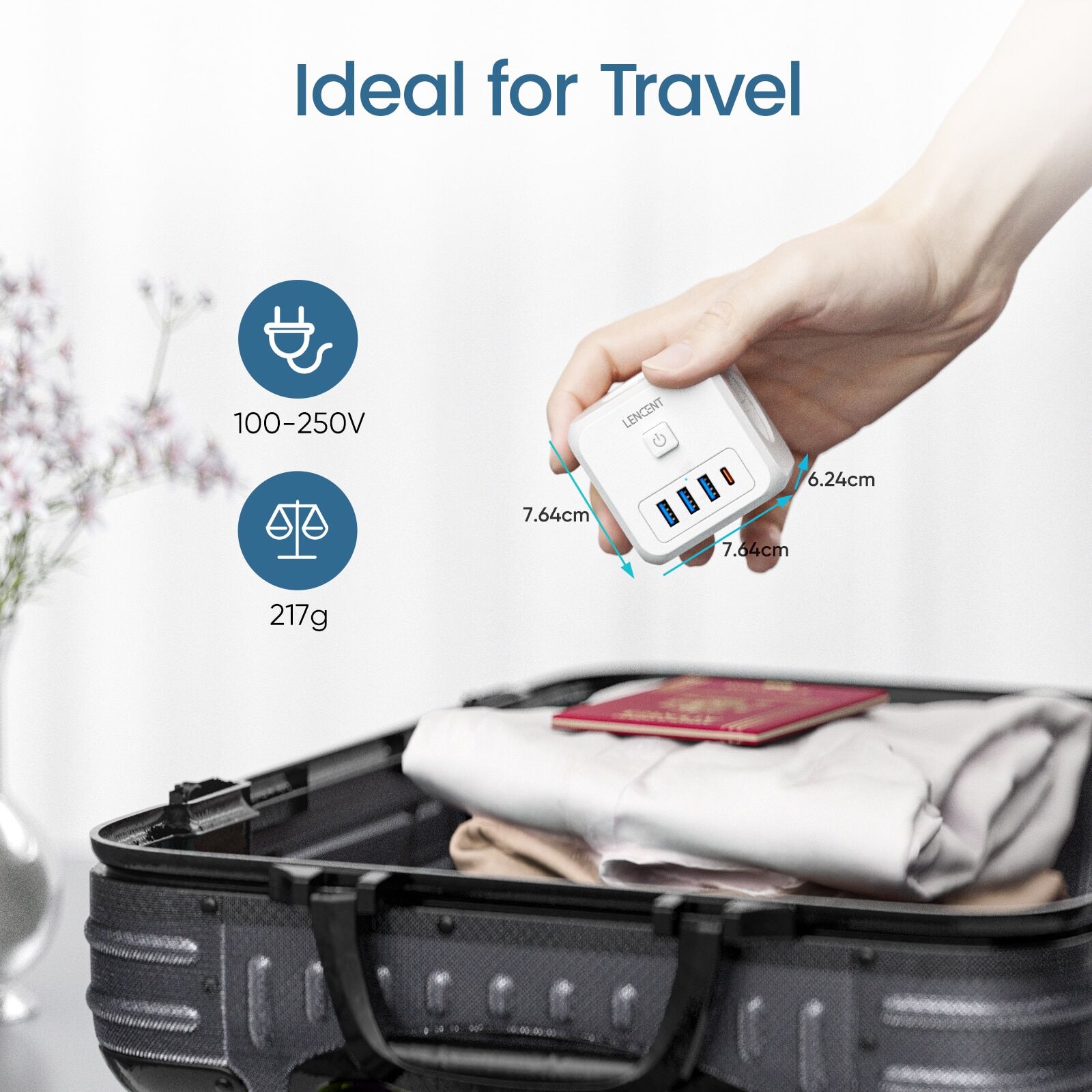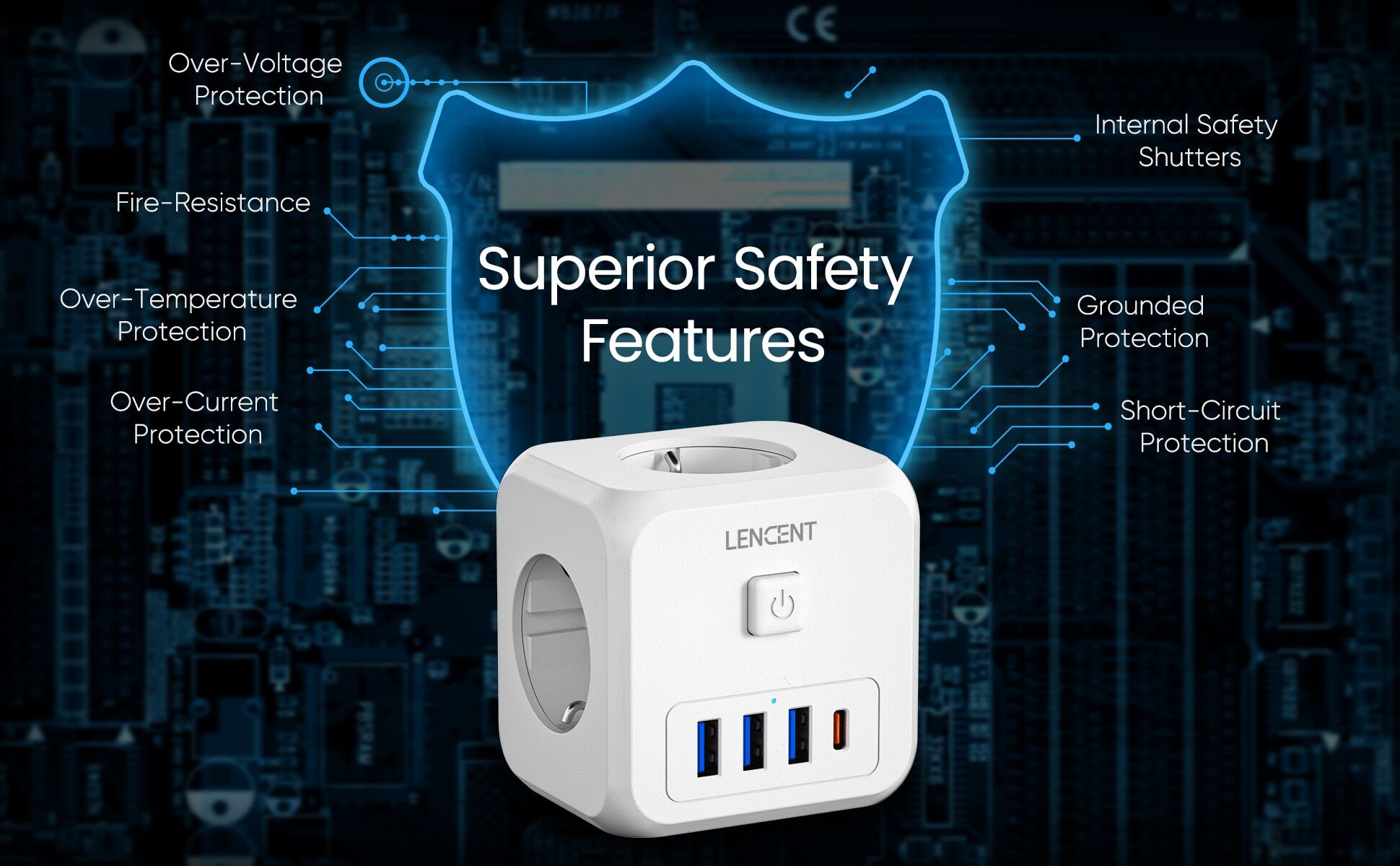 socket divider switch usb, socket divider switch usb, socket divider switch usb
You may also like…
Plug USB travel adapter World to EU 110V-220V 4000W overload protection

€

28,07

Plug USB travel adapter World to EU 110V-220V 4000W overload protection

For adapting the Euro plug to connect to devices of other plug types (so-called World adapter). Light, powerful and compact – also suitable for connecting powerful devices up to 4000W (hair dryers, electric stoves, computers). Includes overload and overheat protection. Also includes 3 USB ports a 2.4A and 1 USB-C port 3A.

Recommended as a top-level adapter for hotels and other institutions that host foreign guests, whose electrical devices brought by customers would not fit the European plug without it.

Add to cart

110V/220V usb world travel adapter overvoltage protection LENCENT for US UK EU AU

€

22,53

110V/220V usb world travel adapter overvoltage protection LENCENT for US UK EU AU

Top-class quality (Lencent) and dual USB a 2.1A socket adapter for travel, compatible with the electrical systems of more than 200 countries. All connections can work at full capacity simultaneously.

It is rated for current 5.9A, what covers all primary travel needs (laptops, phones, etc).

110V/220V usb world travel adapter isn't suitable for powering devices with a current of more than 6A (660W at 110V voltage or 1440W at 220V voltage).

Add to cart